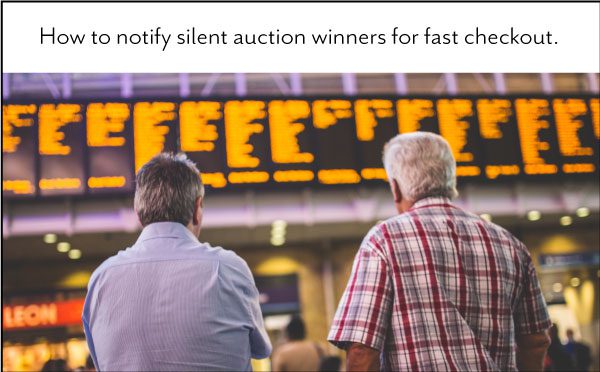 In this post, we discuss methods of how to notify bidders of the auction results.  Some auctions are informal or perhaps small enough that this is not an issue.  Then there are also bidders who will watch their bids carefully and will know the result when the silent auction closes.  But most often, bidders won't keep track and won't know if they've won anything unless you notify them.  Failing to consider this and not planning for it can result in a hectic scramble at checkout.
To keep your guests happy and avoid lines, you'll need to plan your method of notifying winning bidders.  Which method you choose depends on your event's format and the resources available to you.  Here are some methods pros use to keep things running smoothly:
1. Printed lists
Bidstation's bid tracking makes it easy to print out winning bidder lists.  Post these in various locations to allow guests to see if they've won any items.  If you find the default reports in BidStation are not quite what you need, you can also create a document in Word and merge winning bidder information on auction night in a custom format for display.
2. Deliver invoices to tables
If you have enough helpers to do this, you can impress your guests by delivering their invoices right to their tables.  Again, BidStation can make this much simpler to pull off because it allows you to print invoices by table number.  It's a good idea to fold invoices before delivery so that just the header with name, bidder number and table number are visible. This provides your guests with privacy regarding what they won and what they paid.
3. The easel
Use an easel or some other device to display a large poster board or whiteboard on which you list each winning bidder number by hand, in numerical order.  Place this notice board along the pathway that guests will pass by as they exit the ballroom.  Your guests will be able to spot their bidder number, if it's there, indicating that they've won items, and to proceed to the item pickup area.
4.  Email invoices
Set up and test the email invoice function in Bidstation prior to the auction and you'll be able to send invoices to inboxes with a few clicks (internet connection required).  Most of your guests will have their smart phones in their pockets and will be able to pick up the notification instantly.
5. PowerPoint or digital display
If you have access to a digital projector or large display, you can also create a digital display of winning bidders, like flight status displays in airports.  Practice your approach to formatting bidder data into a displayable layout on your selected technology to ensure you can do this efficiently at the event first.  If using BidStation, you'll find the reports will likely be a perfect fit for this, or you can export winning bidders into Excel to be more creative with the display format.
6. Invoice pickup at checkout
This is perhaps the simplest method of all for notifying bidders that they have won, since you don't need to prepare displays or deliver invoices.  People may have a sense of what they have won, and at benefit auctions where bidders are likely to already know if they've won, this method works well.  But it also has the greatest potential for lineups.  It therefore requires multiple printed stacks of winning bidder invoices to provide multiple points where bidders can check out.
Prepare your invoices in BidStation by inputting winning bids and other bids.  Print the invoices, but only for those who have won an auction item.  This will keep your printing numbers down to a minimum, which shortens the time it takes to print multiple stacks.  Give each of your PayStation checkout cashiers their own stack of invoices.
Invite your guests to visit the checkout to pick up their invoice before heading to the item pickup area.  Cashiers can typically find bidder invoices very quickly and if they are ExpressPay bidders, they can take the invoice right to the item pickup area to collect their winnings.  Otherwise, they can pay with a card, cash or check.  The invoices are clearly marked as paid or not by BidStation so it is easy to spot the difference.
It is important to have additional PayStations and cashiers available if you are having guests pick up their invoices at checkout.  This method can work well, but if many bidders come to check out who did not win anything, it can result in a bit of a bottleneck.  Having additional cashier stations will address this problem.
7. Big bid board
Last but not least, we have the big bid board, which is exactly what it sounds like.  If you have the resources and good handwriting, you can print up a grid on a large board and then write in your winning bidders as they come in.  This can be one of the harder methods as it requires building the board and then transporting it to and from your event, but it can be very effective.
These are just seven of the methods commonly used to notify winning bidders.  With BidStation software helping out, you'll find it can be simple to plan a silent auction using bid sheets, and to execute a socially engaging event without the need for distracting technology.