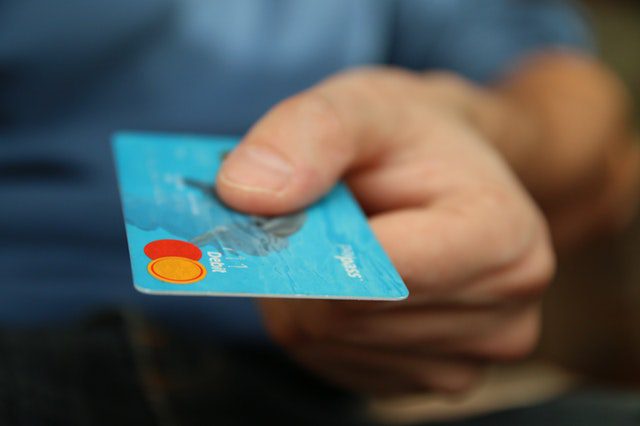 We tell you the why and the how to do this.
Make your next silent auction fundraiser "cashless" for more fun and higher revenues – Free download
Fewer people are carrying cash, and when they do it's less than $50. This was the finding of a recent survey by US Bancorp on the growing preference for more convenient methods of payment over cash. A silent auction organizer needs to keep this in mind and offer guests a simple and efficient way to pay with credit cards at their fundraising event. The best method is to save cards on file at check-in when guests are registering. This allows bidders to skip payment at checkout and leave any time, knowing that their payment will be automatically processed.
Bidstation's partnership with Square makes card on file check-in easy for any organization. The Bidstation app is integrated with Square payments so you can swipe and save cards for each bidder's profile. This ExpressPay process eliminates the problem of long lines at checkout.
Saving cards on file also creates an easy but frequently overlooked opportunity to increase bids, purchases and donations by making the event "cashless". Once a guest has saved their credit card they can use their bidder number for all purchases and donations in addition to live and silent auction bids. Raffle tickets, wine pulls, games, cork draws, raise a paddle and other pledges – all the purchases and donations that guests need to make can be done with their bidder number. Running out of cash is not a problem. Guests can simply use their bidder numbers to record a pledge or donation. There's no need for any transactions at the event, putting the focus on the experience at your event and the cause that it supports.
Below are some helpful tips and resources for hosting a smooth and effortless cashless event to increase bidding and spending:
1.       Offer a card-on-file check-in
This is a critical part of the cashless event equation. As guests register and receive their bid packages (bid paddle, drink tickets, etc.), ask them for their payment card so you can securely save it on file using Square's technology. You can process their invoice balance before checkout begins, or in the days after the event ends – it's up to you. Bidstation's mobile app enables simple card-on-file check-in using your organization's Square account and any iOS or Android devices. It takes just a few seconds to save a card, but it saves heaps of time when it matters most after the event ends. Guests can go straight to pickup to collect their items or leave if they didn't win any items.
2.       Use tally sheets for all purchases and pledges
Print up tally sheets to place on clipboards for everything you're selling (raffle tickets, wine pulls, games, donations, etc.). Download our sample tally sheet and modify it for your event. As guests make purchases, write down their bidder number in each cell under the appropriate column. Enter the bidder number for each item purchased by the guest (e.g. if they buy 4 raffle tickets, enter their bidder number 4 times).
3.       Use a program like Bidstation for quick and simple recording of all purchases
As your tally sheets fill up, replace them new blank ones and enter the data from the filled sheets on the computer where you are running Bidstation to have the purchases appear on the final invoice. Perform this data entry throughout the event to avoid large data entry demands at the end. Plan to enter all recorded purchases and donations before printing invoices to ensure each guest's purchases and pledges are accurately and efficiently tracked and tabulated on their invoice.
4.       Ensure checkout is ready for credit card, cash and check payments
With Bidstation's app you'll be able to accept and record payments at checkout for any guests who didn't save a card on file at check-in. Look up the guest name in the app, see the amount owing, select the payment type and tap the corresponding button to record the payment. The process is fast and efficient, which will thrill your guests as they won't experience long lines or delays when they are ready to go home.
5.       Process card on file payments any time during or after the event
Use the app to process a payment for an individual guest. The process payment button is prominently displayed for any guest with a balance owing and a card on file.
Process multiple payments in a batch in the Bidstation program on your computer with just a few clicks. All amounts owing for bidders with cards on file can be processed at once. This may be done at the event, before checkout begins, or any time after, depending on your preferences. Bidstation also offers the ability to send invoices by email, if that is required.
Letting guests use bidder numbers on tally sheets instead of reaching into their pockets for each purchase will generate more bids and more spending at your fundraising silent auction event.  If you combine this with using Bidstation software to record these purchases you'll have an elegant and simple solution for handling the complexities of credit card payments at your event. By saving cards on file and then tracking all spending by bidder number, you'll be giving your guests a smooth check-out with no lines, ending your event on a positive note.
About Bidstation software with Square
Bidstation is integrated with Square so silent auction organizers can have a simple, accessible and inexpensive way of handling card payments at their events.
Bidstation is a simple to use program that streamlines the silent auction fundraising event from check-in to checkout. Professionals and novices alike find Bidstation has an intuitive flow that helps with the management of fundraising events with auctions, which are complex in nature. At only $129/year and processing fees of 3.5% plus .30 per transaction (Square's card on file rate) and no additional charges, it is an affordable and highly capable solution for any organization.
Using Square alone is not well-suited to the unique needs of silent auction events. The flow and mechanics of the silent auction require a linking of payments with bidders and bids to avoid long lines after the auction closes. The Bidstation app integrates Square payments with Bidstation's database to address this challenge, simplifying credit card payments and card on file check-in for silent auctions of all sizes.
TRY IT FOR FREE!
You can evaluate Bidstation's effectiveness for your event yourself by trying it out.
Run a small simulated auction of your own with our sample data using your Square account.