How to record raffle tickets, raise-a-paddle pledges and all 'Other Bids' at your silent auction using Bidstation
Much preparation goes into organizing a silent auction including procuring items, preparing bid sheets and displays, and tracking winning bids. Yet an aspect of the silent auction event that is often underestimated is the other fundraising activities that may be part of the silent auction event.
Fund-a-need pledges, where attendees raise a paddle to make a donation, and other impromptu activities often raise more money at the event than the silent auction. And these donations and winning bids need to be recorded quickly to be included in the final invoice before the event ends.
Bidstation's Other Bids function is designed for this kind of rapid data entry. By creating a few categories in advance in the software such as fund-a-need, raffle tickets, wine pull, etc. you can enter all Other Bids information into the software in two moves. It takes some advance preparation, but it will save you time at the event when it matters most.
To use the Other Bids function at your event, the first step is to create Receipt Tags for the categories of purchase/donation you want to record. Do this in advance of the event.
Procedure for Creating Receipt Tags: 
To create a receipt tag for a fundraising category, open the Receipt Tag window by selecting the Receipt Tag icon from the dashboard (or from the navigation menu under Other Bids). Enter the Receipt Tag Name and the Amount to be charged if known. If the amount is not known, enter 0 (zero).
Click the Add button on the right (or Update if editing) or press Enter on your keyboard to save. Repeat this process for all items or donation categories you plan to have at your event.
Entering Other Bids at your Event:
At your event, use tally sheets or some other method to record the type of receipt tag (e.g. raffle ticket) and the bidder number for each purchase/donation. (Some receipt tags, such as raffle tickets, will also have fixed amounts.)
You may want to prepare simple tally sheets in advance as shown below.
When you are ready to enter the Other Bids, open the Other Bids window using the dashboard icon or the navigation menu.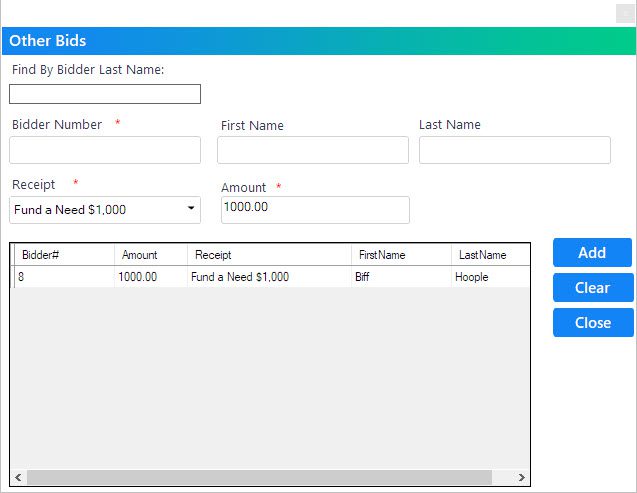 Use the drop-down menu in the Receipt field to select a category for data entry.
If you already entered the amount for the category it will automatically display. Otherwise, enter an amount in the Amount field. Enter the bidder number in the Bidder Number field and click the Add button. A record of the purchase/donation will be added to the bidder's invoice and the total amount of Other Bids recorded will be updated on the dashboard.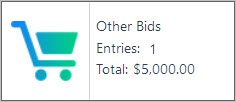 Repeat for each additional entry, changing the Receipt Tag type when needed. If you make a mistake you can edit the entry and click Update or Delete as required.