Silent Auction Bidder Registration Card Template – free download
Whether your event is using a silent auction software system or not, just about every benefit auction event team will have unregistered guests to deal with. These are the guests that arrive with ticket in hand, but their name and contact details aren't on your guest list. Perhaps they are part of a table of tickets purchased or maybe someone gave their tickets away. But you need to plan for this eventuality to avoid big lines at your check-in. Fear not! This post describes a useful and efficient approach to this classic problem — using printed index cards — and includes a free downloadable Word template and Excel file so you can make your own.
Need to create other documents for your silent auction?
Bidstation comes loaded with ready-to-use templates that can be customized to fit your design needs (logo, fonts, etc.) Create perfect bid sheets with increments and buy it now, certificates, thank you letters, labels — any type of document— using Bidstation's unique tools. Bidstation is available as a free download too, so you can try it and see how easy it is to create all of the documents for your auction fundraiser. If you don't purchase it, you can still keep the Word templates that come with it.
Silent auction bidder registration card template download.
Let's first look at why you'd want to use these registration cards, instead of directly adding new bidders to Bidstation (or other system) at your check-in table: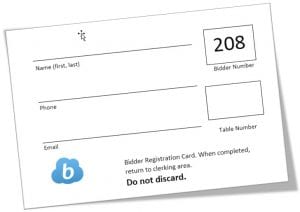 They will simplify and streamline your checkout.
They will give your guests a better experience at check-in.
They will provide a backup hard copy of the guest details.
They will provide a simple and effective way of assigning bidder numbers to unregistered guests.
Greeters can pre-fill these, before the guest arrives at check-in, speeding up the process immensely.
How this works at the auction.
If you have enough staff/volunteers, position greeters at the entrances to welcome guests. Equip them with a clipboard, a handful of blank registration cards, pens and a printed guest list, sorted by last name. As guests arrive, greeters offer a welcome and ask to check them in, looking up the name on the guest list. If the name is on the list, the greeter thanks them and either walks them to registration to pre-swipe a credit card (saving a card on file), or directs them toward check-in.
If the name is not on the list, the greeter can use any blank, pre-printed, pre-numbered registration card and either hand it to the guest with the clipboard for them to fill in, or fill it in for the guest, asking them to review and confirm the spelling, email, etc.
Once the card is completed, the greeter walks the guest to check-in, introducing them to the cashier, and handing over the completed registration card so the cashier can swipe their payment card for ExpressPay and record the pre-printed bidder number on the printed card. Or, if walking over is not feasible, hand the completed registration card to the guest and ask them to take it over to check-in and give it to a cashier. As the cards stack up, enter them into Bidstation (or your bid-tracking system) and you'll be caught up by the time all guests check in.
That's it! It's simple and straightforward, and it works a charm to streamline the unregistered guest "opportunity".
How does this template work?
We've created a simple template to get you going and saved the two required files as a single zip file for easy downloading. We've also included a helpful how-to video (see below).
Download the zip file containing the Word merge template file and the Excel file containing a range of bidder numbers.
Open the downloaded zip file, copy the two files to a new location of your choice on your computer.
Double click the Word template file.  Now you'll need to connect it to the Excel source data file.
Click the Mailings item in the top navigation menu.
Click the Select Recipients button, then choose Use Existing List.
Use the dialogue box to browse to the location of the Excel file, and click open.
The next message box is asking which sheet to use.  The included Excel template file only has one sheet, so just click OK to proceed.
The file is now ready for you to modify as you require (change logo, font, layout, etc.). You'll notice that the bidder number box has a code in it, partially visible.  To switch to preview what the finished product will look like, click the Preview Results button in the Mailings Tab navigation menu.
Once you're finished with editing, click finish and merge, Edit Individual Documents to create and preview the cards for printing.  If you want to use a different range of numbers on the cards, simply change the numbers in the Excel file column, leaving the header (top cell) as is.
Visual learner?  Watch the narrated how-to video below.
This template is set up for a standard 6" wide X 4" high index card (blank, without lines). In addition to modifying the details on the card, you may also change the paper size to suit your needs, or customize the layout completely.
Even when you use software to organize your silent auction, you'll usually have to deal with details such as unregistered guests so plan ahead to be prepared.
About Bidstation software with Square integration
Bidstation is silent auction software crafted for fundraisers that brings powerful organizational features and functions of a point of sale system designed for streamlining the silent auction fundraising event check-in and checkout. Professionals and novices alike find that Bidstation's intuitive flow brings manageability to the complex nature of fundraising events with auctions. At only $129/year, it is an affordable and highly capable solution for any organization and any size event.
Bidstation has partnered with Square to help bring a silent auction point of sale system to non-profit and charity sellers. The Square payment and point of sale system alone is not well-suited for the unique needs of silent auction events. The Bidstation app integrates Square payments with Bidstation's database to simplify credit card payments and card on file check-in using iOS or Android devices.
TRY IT FOR FREE!
You can evaluate Bidstation's effectiveness for your event yourself by trying it out.
Run a small simulated auction of your own with our sample data using your Square account.