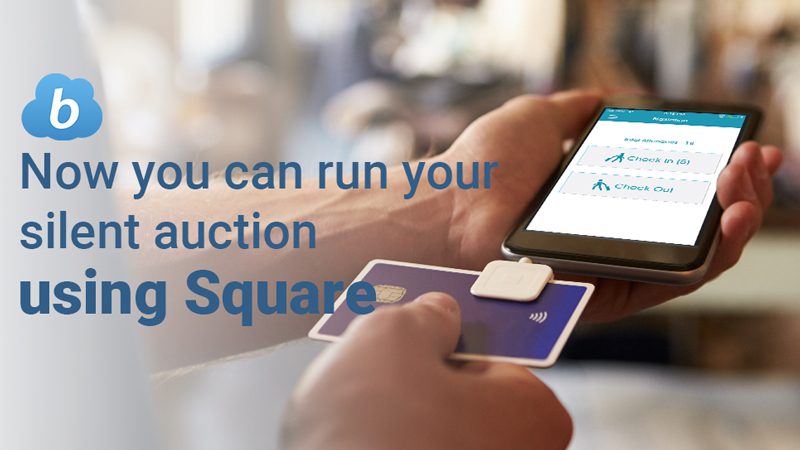 The ease, simplicity and security of Square, brought to the traditional silent auction style fundraising event.
Bidstation is a unique point of sale system purpose-built to streamline traditional paper bid sheet style silent auction fundraising events. Powered by Square payments, Bidstation works with your organization's USD Square account. Capture attendee credit cards at check-in with the Bidstation app for a fast and simple checkout with no lineup. Process card on file charges at any time.  If you don't have a Square account, you can get one for free in just a few minutes. And because all payments and card on file captures are handled by Square, you can rest assured that PCI compliance is in place.
Check in guests, save credit cards, enter bids and payments, email receipts— using one seamless system to have no lines and provide guests with the best event experience. Works with any Square compatible Android and/or iOS device and a Windows computer. Currently only available for US dollar Square accounts.
Uplift your event
enjoy your silent auction
Uplift your event
enjoy your silent auction
EVERYTHING YOU NEED FOR A SMOOTH EVENT
Ready-to-use, fully customizable templates help you plan your auction
Save credit cards on file at check-in for fast and easy check-out with no lines (Card on file tokenization by Square)
Manage tracking bids and payments simply so your guests can relax and enjoy the event
Raise a paddle and fund a need tracking
Reconcile bids and run reports
Fully PCI compliant with no PCI fees, audits or assessments required from your organization
Simple
Simple payment processing using Square
Requires minimal training and no guest instructions
Seamless check-in using mobile devices and the Bidstation app
Process individual guest payments or process payments in a batch
Operates with your existing Square account or a free new account
Funds transferred directly to your organization's bank account
Intuitive interface for entering winning bids and purchases
Functional
Pre-register guests' credit cards using Save Card-on-File function – guests can skip lining up after the event
Pre-designed, customizable templates to create bid sheets, labels, certificates and displays
Assign tables, create baskets, track and record raffles and other purchases
Create any document with your item and attendee data using familiar MS Word merge functions
Track winning bids
Record purchases, donations and pledges
Generate itemized invoices
Email invoices and receipts
Print thank you letters for donors
Run reports on items, bids, sales, payments, etc.
Process payments during or after the event
Affordable + Hassle Free
No contracts
No monthly fees
Unlimited events
Choose Flex or Flat pricing based on your event size:

Flex: $30 annual license fee plus 1% platform fee on card payments processed in Bidstation, no other fees
Flat: $399 annual fee, no processing or additional fees

Securely store guests' credit card information and link to bidder number for easy tracking and payments
Fully PCI compliant and secure payment processing can card on file capture by Square to ensure card payment safety and security
HOW IT WORKS
Bidstation is a unique technology solution for managing the complexities of a classic silent auction fundraising event. The software installs on your Windows computer and connects in the cloud with the Bidstation app on any Square compatible iOS and Android devices. Prepare for your auction using the database tools in Bidstation to create stunning documents including bid sheets with increments, buy-it-now bid sheets, displays, certificates, thank you letters, and everything else you need to set up a perfect auction.
At the event, use the Bidstation app to pre-register credit cards (Express-Pay). Your bidder records are updated with payment tokens created by Square. Input winning bids, donations, raise-a-paddle, wine pulls and other purchases. Generate invoices to be ready for item pickup or checkout. Most bidders will skip checkout by Saving a Card on File, and the app will let you capture cards and process payments at the end of the event too. After the event, process the remaining outstanding payments with a few clicks and you're done! It's a system that enables one person to do many jobs as it makes light work of complex tasks.
Try it for free and we think you'll never run another auction event without Bidstation.
Flex or Flat pricing to suit your needs
Flex Plan: $30 annual fee plus 1% platform fee on card payments, no other fees.
Flat Plan: $399 annually for unlimited use, no other fees.
Both plans offer unlmited events and are for use with your own devices and Square card readers
(Bidstation for Square is for US Square accounts only)
You must have basic internet connectivity to use Bidstation with Square at your events.
For events without internet connectivity, consider using Bidstation Offline.
TRY IT FOR FREE!
You can evaluate Bidstation's effectiveness for your event yourself by trying it out.
Run a small simulated auction of your own with the included sample data using your Square account.